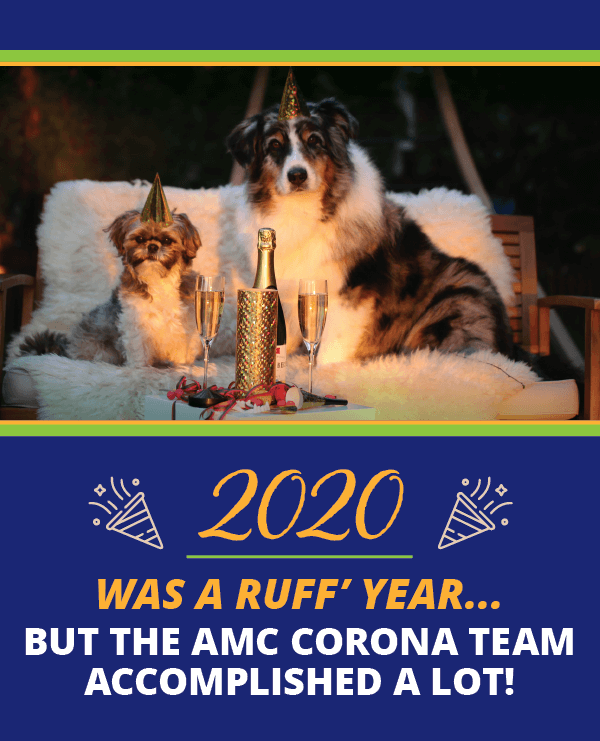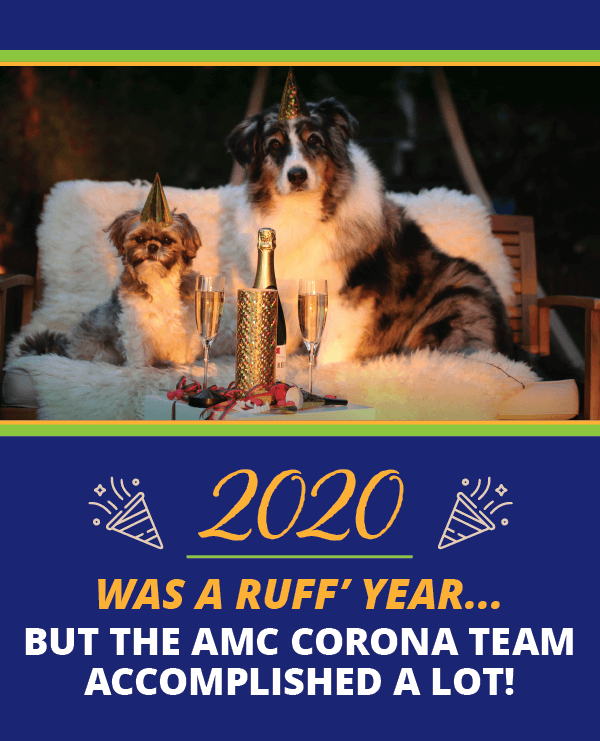 We'll be the first to admit that 2020 challenged us in a million different ways – bring on 2021, eh? – but our team tends to be a water-dish-half-full kind of group, and we have much to be thankful for when we look back at the past 12 months, beginning with you, our loyal clients, and, of course, your furry, feathered, and scaley families. Thank you for trusting us to play a part in your journey together.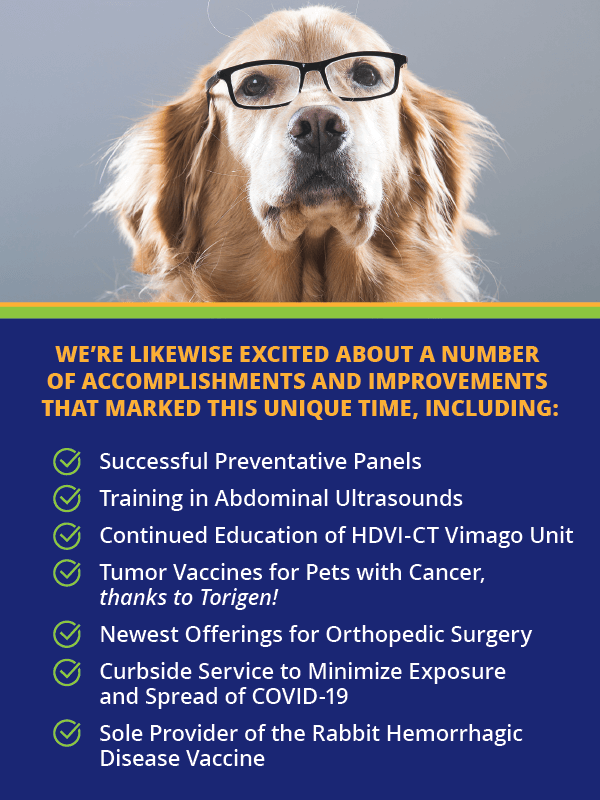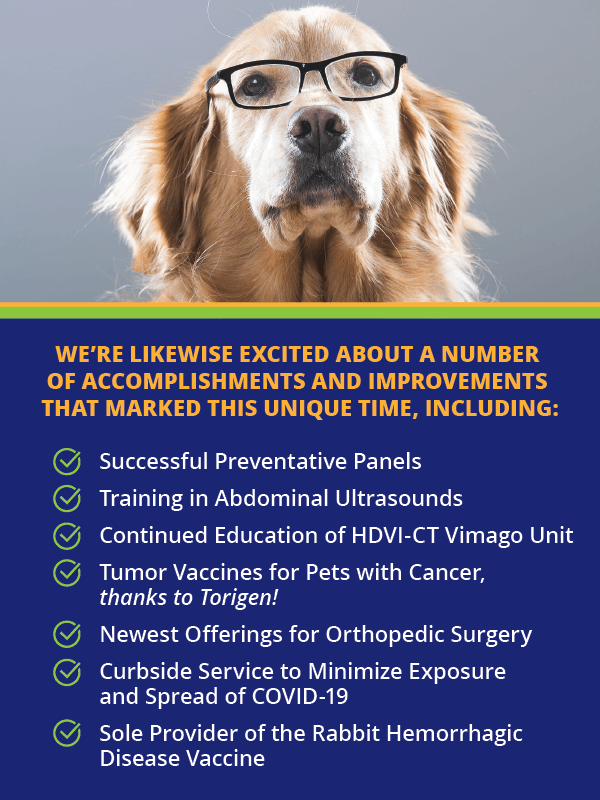 An Ounce of Prevention…
Our Preventative Panels for canines, felines, birds, reptiles, and small mammals have proven very successful. Not only do clients get a great price on lab work for healthy wellness checks, but we found in the course of testing that about 30% of patients had underlying disease. That means we were able to treat the impacted pets before they got sick!

Ultra-Careful
This year, we trained more of our technical staff in abdominal ultrasound and echocardiogram, allowing us to diagnose and treat internal injury and heart issues more quickly and affordably. In conjunction with Oncura, we are able to provide extensive ultrasound capabilities at a fraction of the cost of a specialty hospital.

Picture This!
We continue to grow our knowledge and use of the HDVI-CT Vimago unit, which provides us with 3D CT scans, again aiding in time- and cost-saving onsite diagnoses, which, in turn, leads to better outcomes for our patients.
Doing Our Part to Make Cancer History
We're thrilled to partner with Torigen in the effort to administer ground-breaking tumor vaccines for pets suffering from certain forms of cancer. These vaccines work by stimulating an immune response that targets cancer cells unique to the patient and are currently recommended for dogs, cats, and horses. We're thrilled to be able to offer such cutting-edge treatments to your furry friends their hour of need.
No Bones About It
We are upping our game in the orthopedic surgery department, adding both the RidgeStop luxating patella repair and the MMP cruciate repair to our offerings to help patients with chronic pain and mobility issues feel better and reclaim their active lifestyles. The RidgeStop procedure is a less invasive alternative to conventional knee surgery and reduces inflammation, as well as the likelihood of a pet suffering from arthritis in the future. The MMP is a modified version of the TTA (tibial tuberosity advancement) procedure to stabilize the knee better after cruciate ligament rupture. Bottom line: more options for knee repairs result in more economical methods that are likewise specifically tailored to your pet's unique physiognomy.

Curbside's Here to Stay
In accordance with CDC and state and local guidelines, we plan to continue to operate on a curbside model to protect you, your pets, and our staff. Thank you doing your part to make such a large change go smoothly. Your graciousness, humor, and cooperation helped our team weather the storm and continue to fulfill our mission of bettering pet quality of life.

We Hopped to It
We were proud to be the only vet in the Inland Empire to be able to offer the RHDV vaccine, which protects rabbits from the deadly Rabbit Hemorrhagic Disease Virus. This virus – not transmittable to humans or other animals – can spread rapidly between rabbits and is fatal to all breeds, both domesticated and wild. The vaccine is proven safe and effective, so if you're a bunny owner and have yet to have your best bud vaccinated against RHDV, give us a call at (951) 493-6771 today to book an appointment!

We want to thank you again for making all of the above possible. If it weren't for you and your furry/feathered/scaled friends, we would not have been able to make such leaps and bounds in the standard of care we provide. Here's hoping this finds you healthy and happy and we look fur-ward to an even better – and purr-haps slightly less memorable – new year!
Warmly,
The Incredible Team of AMC Corona