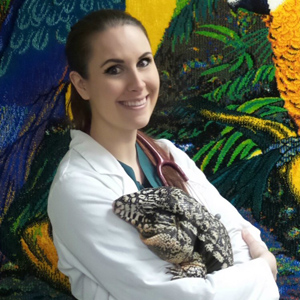 Dr. Code received her Bachelor of Science degree from Utah State University, having studied Animal, Dairy, and Veterinary Sciences. She then moved abroad to St. Kitts, West Indies where she earned her Doctorate in Veterinary Medicine from Ross University School of Veterinary Medicine. Dr. Code completed her clinical affiliate year at Oregon State University College of Veterinary Medicine.
She is originally from British Columbia, Canada. Dr. Code has always had a passion for working with exotic animals, especially exotic felines. Prior to veterinary school, she had experience working with tigers, lions, cougars, and lynx in Wylie, TX. She also owned her own reptile rescue for over 3 years.
Dr. Code enjoys teaching and being an artist. She has a black Pomeranian named Kujo that she calls her son, a Pitbull / Rottweiler mix named Diesel, and two identical grey and white cats named Spyro and Kiro.